Today is Day 5 of the
Sugar Free Challenge
I keep asking myself why I am doing this - and debating quitting - but I am half way though so I am going to tough it out.
My husband just walked through the door with a fountain soda.
I LOVE fountain sodas on a hot, summer day! It's so tempting to go take a small sip.
Day 1 (Wed) - completed with no cheats except a gummy vitamin
Day 2 (Thusday) - my husband was supportive and finished off the cake that was tempting me in the fridge. I ended up eating ONE (I promise, it was only one) organic animal cracker.
Day 3 (Friday) - I made honey-mustard porkchops and green beans for dinner. This is a small cheat because of the honey (duh) but also because there is sugar in the dijon mustard. But, I did not use a lot of the sauce, nor did I eat a ton of the meal. This was way too savory to feel like cheating.
Day 4 (Saturday) - I was very hungry and so sweets sounded good but I ended up just eating a lot of fruit and nuts. I did have half of a VERY watered down sports drink (sweetened with Stevia) after a 12 mile run.
Day 5 (Sunday) - So far, no cheats. Am I pround that I made it this far? Not really. I am moreso just bitter.
On a positive note, David completed one of his large challenges - his level 2 CFA exam! When I tell people that he studying for his CFA, they often think that I mean his CPA. But no, I mean
CFA
. I didnt know what it was until he mentioned it, either.
To be successful, David has spent the last three months locked in the office (or hiding out at the library) to study. I have missed him very much, and so have the kids.
After the test, we picked him up and we went to celebrate at Pita Jungle. This was our first family outing in three months. The kids were absolutely ecstatic that he was with us...they would not stop climbing over him!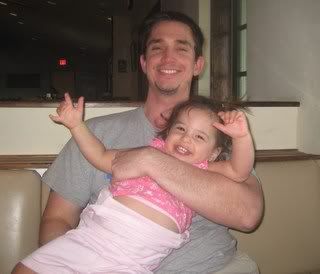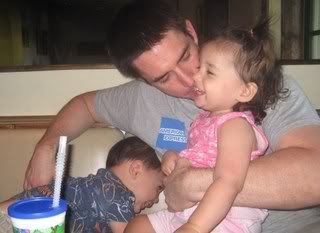 We will know the results of the test in 6 weeks.