There are few things in life that excite me as much as the salad bar at Whole Foods. Those who know me in real life understand that I am not exaggerating. A few years ago I went to New York. It was an awesome experience - I saw the sights, I ate the pizza, I walked through town square - but the highlight of my trip was the Whole Foods in Columbus Circle. There was not only one salad bar, but a half a dozen salad bars. There was even an entire salad bar dedicated to desserts.
I actually couldn't care less if I never went back to NYC except that would mean I would never return to Whole Foods. That would make me sad.
We live by two Whole Foods, and while they do not hold a candle to those in NYC, they are good enough to satisfy me. There are two salad bars (one hot, one cold) with an array of vegetables, pre-made salads and proteins.
My typical salad is a large layer of spinach and kale, topped with either tuna or chicken, and then layered with every available offering. It is not uncommon for my salad to weigh multiple pounds. And since Whole Foods charges by the pound, I can only afford to go when escorted by my mother. Which is not a bad thing because my mother is my bestfriend. I could not think of anyone else I would rather do lunch with.
The babies have been to Whole Foods many times. In fact, it was their first outing when they were two weeks old. I was so excited to take them to my mecca! However, at 2 weeks old, they rarely opened their eyes so to my dismay, they slept through the entire experience.
Thankfully, as toddlers who keep their eyes open, they do love Whole Foods just as much as me!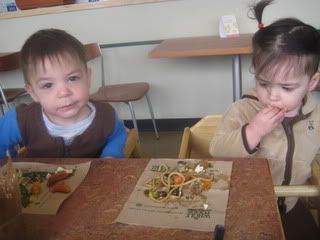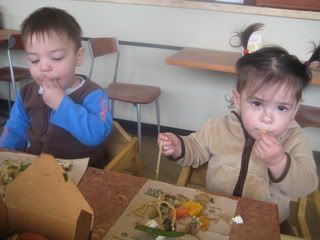 Brenna was very confused by that noodle she is holding in her hand. She held it like that for an uncomfortably long time.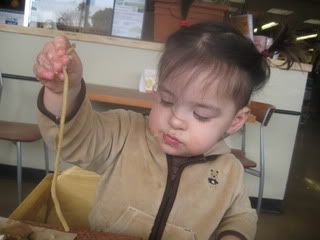 Training:
I am beginning to fill up my race calendar. I am pretty sure about running a 5k with the babies on March 27 (3 weeks) and doing my first post-partum triathlon in May. The question now is should I start with the sprint distance, or jump right in with the Olympic distance?
I think I will decide once I get my new bike.
YES - I am going to get the bike. However, its a large purchase so I am going to give this a lot of thought. Whatever bike I end up with will be my bike for many, many years. It has to be perfect. Dang, that is a lot of pressure.
Saturday's training - 12.1 mile run w/ friends at 8:30 pace. It wasnt hard, but it also was not as easy as I like it. I have some work to do before I consider myself back in 100% shape.
Sunday's training - 2 hours on the bike. It was cold and windy so I compromised with myself and did only 70 minutes (20 miles) outside. I finished on the trainer - there is no headwind indoors!
I am about to start exploring my options in regards to group rides. I know enough people where I have quite a few options but its about fitting it into my schedule. David's CFA studying comes before my bike riding and someone has to watch the kids.