It's been a busy, yet uneventful week for us. I had a stomach bug for nearly 8 days, and work has kept me busy. There are no races in my immediate future, but I am beginning to piece together my spring schedule. Right now, I am thinking about 3 duathlons and 2 trail races. I am bracing myself for what is always the shocking sticker price to sign up for these events.
Less if a sticker shock was Christmas. I managed to get everything at consignment shops and garage sales, including a Leapfrog learning system for only $4. I am glad that I kept it cheap because the kids were less than enthused about opening gifts. Don't get me wrong, they enjoyed the attention - but as little as they cared about unwrapping the gifts, they cared just as little about most the contents.
Due to time restraints, we did not get around to putting up our tree. However, the presents needed to be out somewhere so I tacked up some fake pine and some tinsel. Look at me, I am crafty!!
Brenna got a bunch of books, a new pair of shoes, a fun puzzle for us to do together and a large coloring book with crayons:
However, her favorite thing were the stocking stuffers, which included high heels, a magnifying glass, bubbles that smell like grape, and a bouncy ball that lights up when it hits the floor.
Hayden got a ton of match box cars (as he didn't have enough), new shoes, flash cards that come on a ring so he can do them by himself and lots of books. But, only one book matters - Thomas Tells Time. He got very excited when he unwrapped the present enough to see Thomas. And he got extremely excited when he pulled back the paper to see that there was a clock: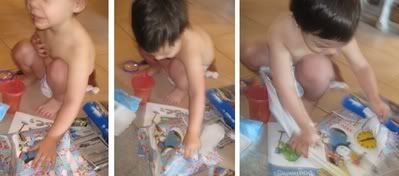 Hayden really likes trains.
And he really likes clocks.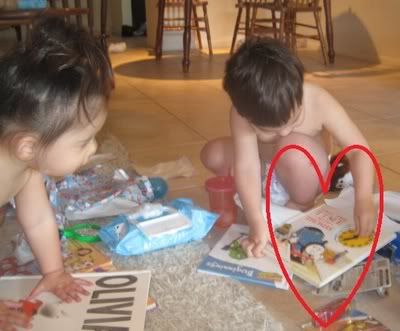 Yup.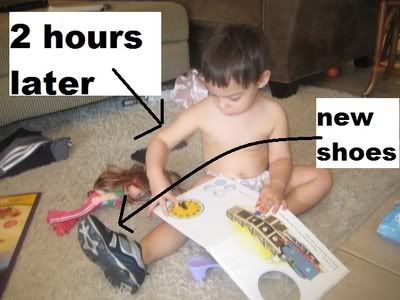 Everyone seemed satisfied, including our cat, Salty Poo. Of course I could not leave him out.
And, he may not look excited from behind, but trust me, he cannot wait to try on his new outfit.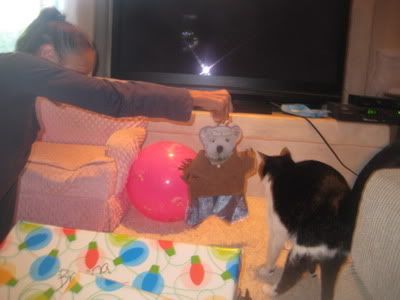 Just don't tell him that it's really an outfit intended for a teddy bear.