With Thanksgiving comes an abundance of turkey trots, so we are back to training! We only have 2.5 weeks - I am hoping to fit in 5 speed sessions...so, are almost already half way done!
Session #1: 800s.
This was my first time running fast with the jogging stroller and Mother Nature welcomed me back with wild, gushing winds. I think I have said this before, but it doesnt get any less aerodynamic than a double jogging stroller.
800 #1 - 3:22
800 #2 - 3:15
800 #3 - 3:26
800 #4 - 3:24
800 #5 - 3:22
800 #6 - 3:10
Most of the time I had a cross-wind or a headwind, but obviously I had a trailwind for that 3:10. It felt like cheating so I voluntarily turned into the wind for the last .15. I am sure people wondered why I was running ferociously into the wind, grunting and cursing. I am sure we were quite a sight.
Session #2: Tempo.
11 mile run, last 7 with the stroller, last 3.5 @ tempo effort.
I could tell immediately that something was not quite right - no matter how hard I pushed, I couldnt run faster than a 7:45 pace. After a mile of wondering if it was me or the stroller, I stopped to examine the situation. Turns out, we had a flat.
There is not much you can do since AAA does not cover jogging strollers. So we moved slower than we liked, but we kept moving.
That is one thing about running with a stroller - between the wind, flat tires, hills, and dropped water cups - consistency is impossible.
However, another thing about running with a stroller is that it takes a lot of the weight off the legs. After months of dealing with tightness and tendonitis, my hamstrings and glutes are loose and limber!
We ended our run at the local race going on at the lake. It was a 3000 meter swim and a 5K. We put on our cheering faces!
It's a pretty big deal because next Sunday is the local Ironman.
This race is crazy - its a 2.5 mile swim, 112 mile bike ride and a 26.2 mile run ALL IN THE SAME DAY. Of course, we will be out there cheering on all my crazy friends.
So this is very important practice! Brenna got very good at cheering, she really likes to clap her hands:
As you can see, Hayden looks ready to go.
He was good at cheering too, just not for as long as Brenna. I let him out of the stroller to walk around and he promptly put his blanket away: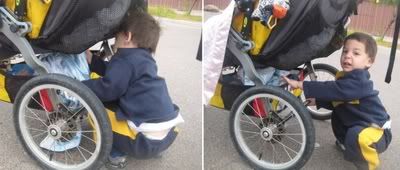 And then to further show me that he was ready to leave, he opened up the car door! His strength and ability never cease to amaze me:
After that, I felt like we had to choice but to follow his lead. This satisfied him every much. But little did he know that I was going to leave soon anyway.