On a scale of 1 to 5, I would give this race a 3. I didn't have a bad race nor a great race.
I did much better than last year (7th overall female instead of 21st) but I made some technical errors and struggled on the bike - AGAIN.
This race really is good at making me feel like a sub-par cyclist.
Things started off great. It was cold at the start, but nowhere near as cold as last time. I was a bit intimidated by all the fancy bikes, but not nervous or anxious. I was in the mood to run and bike.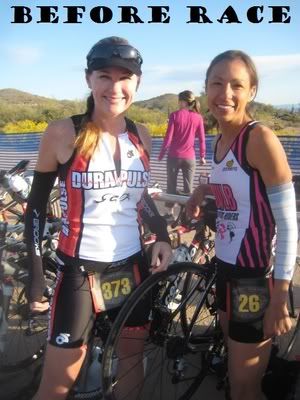 The race begins on slightly-inclined road for a half mile to the trail. I started off very fast - not sure how fast because I did not wear a Garmin. However, once I got on the trail, I settled into a comfortable pace. The first run was 3.65 miles and I averaged 6:37 with ease.

Most of the bikes were still in the transition when I arrived. I ran up my row, scanning through the nearly identical bikes, but I did not see mine. I guess I was expecting my pink handle bars to jump out at me. I ran back down the row, scanning once again. Then I panicked, "

Where is my bike?"

I asked out loud. A second time running up the row in slow motion revealed my bike. I simply overlooked it in a haste.

This was technical error #1

.

I sat down and put on my bike shoes. It always sucks when you have a lead and then waste the entire thing in transition.

The bike started off smoothly until it was time for water.

I have a pretty awesome drinking system designed my Mom's husband. The system is basically a water bottle and a camelback straw that goes up to my aerobars. The night before the race, I moved the water bottle to the back holder - I failed to get on my bike and re-adjust the straw. When I went to drink my water during the race, I realized the straw did not reach my mouth.

This was technical error #2

.

After slowing down to fool with it, I shrugged off the incident, determined to have a strong race. My goal was 20mph and I thought this goal was in the bag. 20mph is a comfortable pace for me.

The road was everything I remembered - hilly and windy. But I was very satisfied with my pace. However, at Mile 17, the race entered the park. This was a new addition - adding 10 extra miles through the park.

I struggled.

The road had loose gravel and it was bumpy.

I didn't feel comfortable on my bike.

The loose gravel made me scared to turn, so I slowed down for each turn.

And then there was wind, my worse enemy, making things even worse.

My back and neck started to hurt. I felt tired.

In an effort to perk up, I decided to try a GU. This is not something I normally do since I don't normally exercise for more than 2 hours.

I know, I know, I should not try anything new on race day

. But the GUs were free, so I had opened one and put it in my bento box.

When I reached down to grab it, my hands emerged full of sticky GU.

I sucked on the bag to retrieve the leftover GU. The near empty bag then stuck to my fingers.

This was technical error #3.

Having sticky fingers was incredibly annoying so I plugged along, at a pathetic 15mph, struggling to stay upright on the gravel road, cursing into the headwind with my all my fingers crammed into my mouth as I ferociously attempted to suck off all the GU.

I must have been a sight for sore eyes.
After what seemed like an eternity, the road straightened out and I realized that the bike portion was almost over. A second wave of determination came over me and I forgot about my sticky hands.
I gratefully arrived back at the transition. My bike pace ended up being 18.5 mph. I feel slightly embarrassed by it. I have to wonder if the bike course was legitimately hard, or if I just mentally gave up?
Transition number 2 ended up being just as slow as transition number 1. For some reason, I just could not get my shoes on comfortably. There is more to this story, but lets just say:
this was technical error #4.
I finally start running and although the weather was getting warm, I felt really good. I passed two women and lots of men. I would guess that I was running about a 7:30 pace. And then, the worst thing happened - I get a stomach cramp.
Ok, Ok...it's not the "worst" thing, I could have fallen off the mountain.
But I never get stomach cramps! Wait...except for when I try GUs.
I know I learned this in previous races so shame on me. And,
technical error #5.
To get rid of the side cramp, I walked up the steep hills. This was hard for me because I am a hill runner. I also had to go slow on the downhills. Doing this kept the side cramp manageable but brought my run pace to a disappointing 8:15.
In any event, I finished!
Compared to last time, I did good.
Compared to my goals, I fell short.
Run 1
:
This time = 6:37
,
Last time = 7:15
.
Goal = 6:50
Bike:
This time = 18.5mph
,
Last time = 17.3mph
.
Goal = 20mph
Run 2
:
This time = 8:15
,
Last time = 8:55
.
Goal = 7:55
.
So once again, I have my eyes set on next year.
I really don't know if this race is challenging, or if its simply challenging for ME, but regardless next time:
- I will do more long bike rides. I only rode 40 miles once, I only rode the race distance a handful of times.
- I will do a practice ride on the course.
- I will practice fueling before the race. Doing longer rides will give me an opportunity to do this.
My efforts got me second in my age group. I was fated for second place, even if I made no technical errors and ran to my full potential, the first place girl was a much better cyclist.
The next big race is in the end of April. It is another duathlon, but the bike is only 20 miles. I think until the kids start school, I need to set my eyes on races that under two hours. I would love to go on long bike rides or even better, long bike rides followed by runs, but even if I bend my schedule like origami, there is no way to make it happen.
On the bright side - no more 30+ mile bike rides for me!