Perhaps this post is slightly premature since I didn't start talking about the heat last year
until May.
And since earlier this week, we played outside and there was a distinct chill in the air:
But it's a moot point because the inevitable is approaching. It's getting hot.
I don't mind the heat but the beautiful weather during the winter does spoil me. Lots of things change during the summer...I will say goodbye to sleeping in past 5am, afternoon trail runs at South Mountain and lunch time frolics with the jogging stroller.
A few weeks ago during our
Costco outing,
we were cruising at a 7:30 pace with ease.
Last week when it was warmer, we slowed down a 7:45 pace.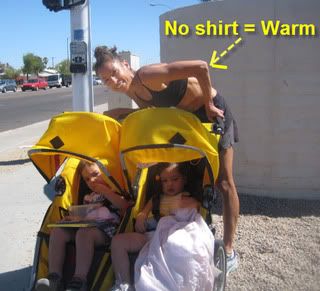 Yesterday, it was even even warmer and we were slowed to a 7:58 pace.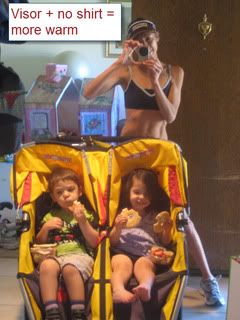 That was my first time in months seeing my pace so close to the 8 minute range. It was windy and a recovery run...yada yada yada... but nonetheless it is time to mentally prepare for the dreaded "summer pace."
I confess, every week I do speed intervals to make sure that I didn't wake up and lose my relatively new sub-6 minute mile pace. But I think it's only a matter of time until it takes a hiatus.
There are good things about summer though that we can focus on instead, like swimming outside.
Also, when Brenna doesn't want to get dressed, I won't have to worry about her getting cold. This week, she refused to get dressed for our weekly playdate. I took her in her diaper as she pouted: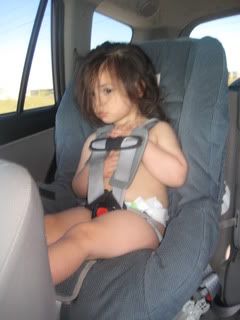 (but she still couldn't resist taking a break from misery to smile for the camera)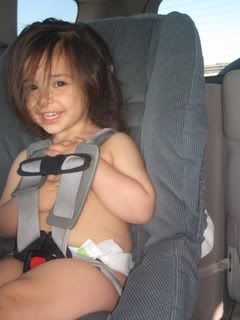 In my defense, I did bring her clothing - modesty always kicks in once we leave the house.