I ran a small 5K on St Patricks' day (hence the green font, lets call it "festive"). I was lured by the nearly non-existent price tag and free breakfast. I sandwiched it between a 4 mile run with my friends, and a 4 mile run "cool down" to make it my weekly long run.
The very exciting thing about this race was that David ran it as well - and to make an unusual event even more noteworthy, he ran it with the kids. It was our first family race!
Awkward pose with the sun in our eyes: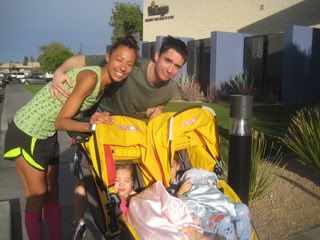 Much better, except the kids look miserable: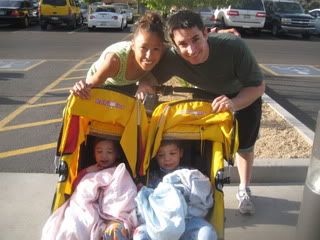 At first, I longingly wished I was pushing the stroller. It was a fleeting feeling though since the course was hilly and the air was windy. I know I have said it before but I will say it again - the only thing harder than pushing that stroller up a hill is pushing the stroller in the wind. It just doesn't move!
There was not any competition at the race, which was disappointing. I like racing, and I would have been satisfied with a woman or man or even a dog. I won but without anyone chasing me so it was more like a tempo run. It was still fun though and good training for upcoming events.
I did wear a Garmin and took the occasional glance at my avg pace. Mile 1 was 6:19. Then there was a very steep hill to the turn around, slowing my average pace to 6:40. But, what goes up must come down so I was back down to 6:20 by Mile 2. Crossed the finish line with an average pace of 6:19 - final time, 19:37.
After my win, I turned around to go find David.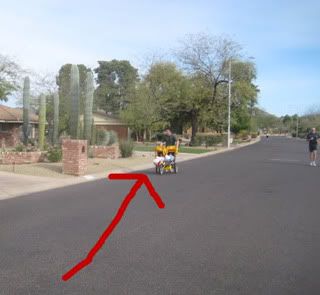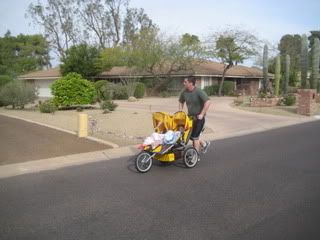 He looked miserable but the kids looked delighted! I made this collage to help savor the moment. I may have gotten a little carried away with the Snagit Editor. It brings me back to my childhood days when I always made collages as gifts for my mom. Of course back then I used magazine clippings and Elmer glues and they probably looked better.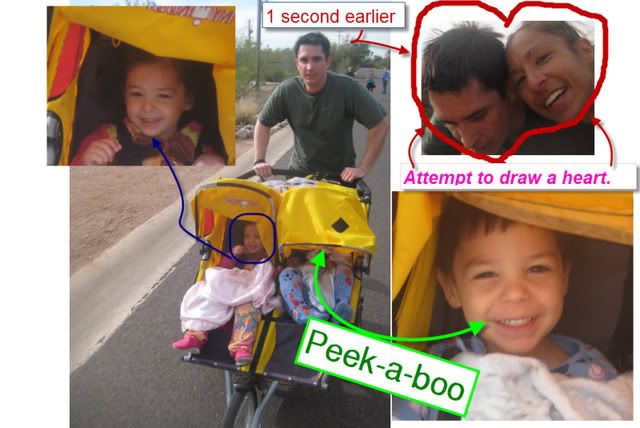 Afterwards we feasted on the post-race buffet of eggs, yogurt, fruit, green jello and pomegranate smoothies.
And then David took a well-deserved nap until one of Brenna's tantrums woke him up. We will talk about that some more perhaps another day.