This race had its ups and downs for me but overall I am pleased with my performance since it resulted in nearly a 12-minute PR.
My goal for this race was simply to do better than my
last one.
. This time, I focused more on swimming and I did brick workouts. I felt confident.
However, I also felt nervous.
1) The memory of my last run haunted me. Would I have another bad run?
2) No wetsuits.
Triathlons prohibit wetsuits if the water is over 78-degrees. The morning of the race, the water was 81-degrees. For those of us who cannot swim, the wetsuit is wonderful. It is like a massive floatation device, that allows you to glide across the water with little effort.
Knowing that I dont naturally float, I knew from the start that I was at disadvantage. You cannot tell in the picture, but I was so nervous I was trembling:
In large triathlons, they start you in waves.
-First the professionals will start.
-Then the Sprint triathlon will start.
-Then the young men will start.
-Then the "old" men will start.
-Then, finally, I start.
They separate each wave with 5 minutes. During this 5 minutes you wait in the water. With a wetsuit, this is no big deal because you float. Without a wetsuit, this is 5 minutes of treading water. I guess we can refer to that as a warm-up?
Usually the swim course is a rectangle. This swim course was a weird shape, which made spotting hard. However, I felt in my groove after I reached the first bouy.
The water was choppy and I swallowed a lot.
In case you dont know, this particular lake is very gross.
I was very relieved when I finally got out of the water - the hard part was over!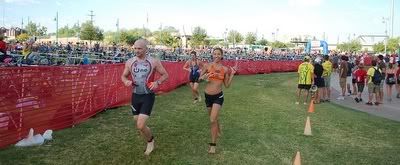 My swim time at the last race - 27:27.
The swim time at this race - 29:47.
I knew it would be slower without a wetsuit.
However I also heard the course was about 400 meters too long. That makes my swim time not so bad.
Coming out of the water, I was in 25th place.
I did not know that.
I dont wear a watch so I had no idea how good or bad I swam.
But there was no time to think about it - I rushed to my bike.
Transition time at my last race - 2:30
Transition time at this race - 1:48
Better, but still slow.
My bike went exceptionally well.
Once again, I did not have a watch, but I did have a computer telling me my pace. I stayed in a middle gear, high cadence. It felt effortless! I spent the majority of time passing people.
"
On your left! Have a nice day!"
I repeated over and over again.
Bike time at my last race - 1:14:22 (20.1 mph)
Bike time at this race - 1:08:12 (22 mph)
It was the 8th fastest female bike time, and I am now in 16th place.
I get ready for my run and I can already tell that it was going to not be my best. Remember all that lake water that I drank? Yeah, it doesnt feel very good sitting in my stomach.
Transition time at my last race - 1:28
Transition time at this race - 1:41
I suck at these!!
I grab my Garmin. Now I am in my element.
I figured if it was a standalone 10k, I would shoot for sub-7 minute miles. So it seemed reasonable to expect 7-7:10 minute miles for this race.
Mile 1 felt OK. 7:06.
Mile 2 felt less OK. 7:15.
Mile 3 did not feel good. Nor did mile 4 or 5 or 6.
My stomach felt bloated, crampy and gassy.
My fear came true:
It hurts just like it hurt last time
.
It didnt help that the temperature at this point was over 90-degrees.
JUST KEEP RUNNING
, I told myself.
I kept an eye on my Garmin to ensure that my pace stayed below an 8-minute mile.
I couldnt help but think,
How are you ever going to run a 7-pace during a half marathon if you cant run an 8-pace during a 10k?
Finally I reach a small hill. I knew that after this hill, it was less than a mile to the finish. For the first time, I walked. For the first time, people passed me. But I needed to walk and compose myself.
After the hill, I continued to run.
I ran passed everyone who passed me.
I ran to the finish.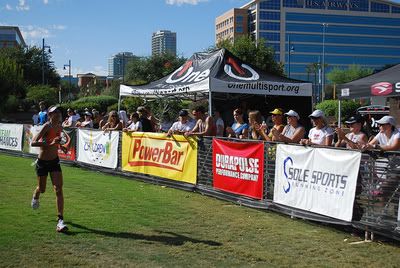 Oh sweet finish.
Run time at my last race - 54:49
Run time at this race - 47:21.
Maybe it was the heat but I think lots of people struggled because it was the 9th fastest run time.
Last triathlon final results: 2:40, 28th place, 6th AG
This triathlon final results: 2:28:52, 9th place, 3rd AG
I like my time.
And I also like that between the swimming and transitions and running - there is a lot of realistic room for improvement.
BUT
That will temporarily be placed on hold while I focus on my half marathon.
Unfortunately, this race has made me second-guess myself as a runner. But running is not what I do, it's who I am, and I am sure in a few days I will remember that.
As usual, I had my reliable fan base. Including:
and
As adorable as they are, I did ditch them after the race for a late breakfast with my dear friends: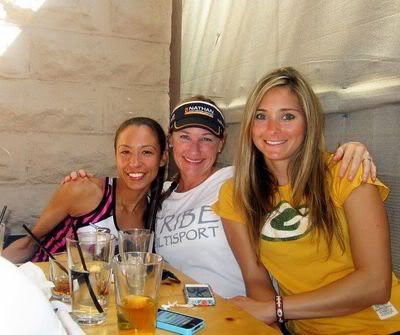 And maybe breakfast included this: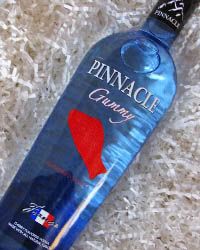 And yes, that is gummy flavored vodka.
IT TASTES JUST LIKE CANDY. Isn't life great?