I am the point in my training where my triathlon training and half marathon training officially overlap. This was my first week using my coach's plan - there are 9 weeks left until the race. At the same time, I am still pushing on the bike and on the swim for my triathlon - I have 3 weeks left to improve.
It is a tad overwhelming.
This week's training:
Monday
- 6.5 miles (SS), 40 min swim
Tuesday
- 21 mile bike ride @ 19.6mph bricked w/ 3 miles with the jogging stroller. + 1800 meter swim
Wednesday
- 8 miles w/ 2 miles tempo x 2 (14:03/14:32), 1 mile RI. Coach said that tempo should be "half marathon effort" and that I should feel like I could do a third. It felt especially hot, by the time I was done, I was exhausted.
Thursday
- 21 mile bike ride @ 18.6mph (I caught every red light! so frustrating) bricked with 2 miles
Friday
- 3.5 mile trail run, 2400 meter swim
Saturday
- 10.6 mile run w/ friends - 7:59 pace! The weather cooled to 83 degrees and felt fantastic. It's been awhile since I had a good run, so I needed this boost. This was actually one of the easiest workouts this week. My legs felt wonderful.
Friday
- 46 mile bike ride w/ my women's cycling club, bricked with 1.2 miles. I did not feel great for the first 20 miles of this ride - it just felt very hard to peddle. I checked my brakes at every red light to make sure they were not rubbing. Turns out, the first 20 miles were up a gradual hill. Needless to say, I felt much better on the way back.
Sunday's workout was longer than intended, and took up most of the morning. I was worried that I would arrive home to especially cranky kids but it was exactly the opposite! They have been independent, little angels.
Yesterday we took them to the mall, where again, they were nothing short of perfect.
The mall has little toddler rides for $2 so we decided to put them in their first helicopter! At first, Hayden was intrigued:
But then it started to move. Not only did it go around, it went up and down.
After a few seconds of screaming, we moved them to a train so I could ride with him. This ride stayed flat.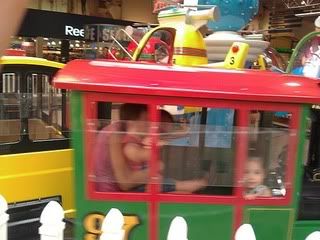 Hi!