Well, at least in the mornings.
Yes, its the park.
Yes, this means its time for pictures of the kids in swings.
Like
here
and
here
and
here
.
Not that I necassarily want to fill this blog with redundant pictures, but when you are one mom, dealing with two kids, the sweet confinement of swings is a blessing.
Because when they are not confined, they are climbing.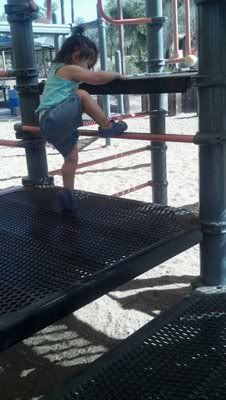 But never the same structure, of course:
A summer growth spurt has left them with new, longer and stronger limbs. So now they can climb everything. Which creates yet another problem: Just because you can climb up, does not mean that you can climb down!
So yes...we like the swings.
And we like fall. We were getting desperate towards the end of summer...sometimes we would go to Albertsons just to walk around!