It wasn't my best race,
and it wasn't my worst.
But it was a lot of fun!
Got to the race early to register and socialize...(yes, I am showing off my "gun")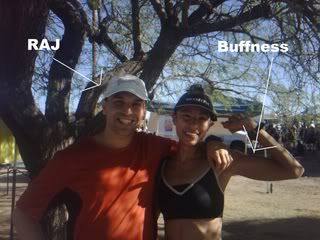 Did a nice 3 mile warm-up and decided I felt good, but not great. The race did not start until 8am, and in Arizona...8am = hot and sunny. I determined the race would take me 21 minutes.
I have ran large races before, mainly marathons, but this was the largest 5k I have ever seen. We were shoulder to shoulder at the start line...it was crazy! The first mile was all about weaving in and out of the crowd. I was loving it, a little too much, since my first mile was in 6:20 and reached the turn-around at 9:50. And then reality hit...I fizzled out on the way back. Mile 3 was in 7:06. Final time = 21 minutes, HAHA.
I finished my run with 4 additional miles with the stroller. I dont think I have an endurace issue (hence the extra miles) but I do have a (severe) pacing issue. Last time I ran this race I did it 20:17 but I remember that day and it was lot cooler.
I think the heat slowed people down because I still snagged a 2nd place age-group medal (out of 53). You want to place in each race because placing = points. The points will be tallied at the end of the series. There was just a handful of seconds separating me and the first and third place winners...should be interesting!
Plus, a new medal = a new toy: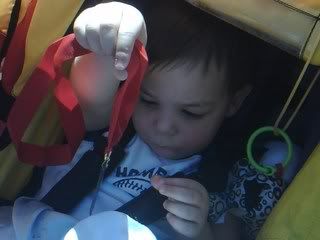 Although its nothing compared to this new toy that Grandpa gave us!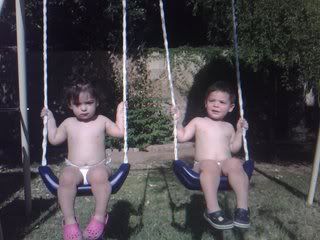 Hayden is learning the hard way that if you let go of the swing, you will fall. We'll see how long this takes.