I remembered yesterday that the first 5k of the summer series is on Saturday! I have not done any speedwork since my last race with the jogging stroller so I decided to test the waters with some speed. (Never mind that in my last post I decided to take it slow for a bit).
Since I woke up early on Saturday for a long run with my running friends,
and then woke up Sunday for an (insanely) hilly bike ride with my cycling club,
it probably was a bit much to wake up early for yet another hard workout.
But you know me, I dont train in ways that make sense, I just do what I want to do. This speed workout was mainly to wake up my fast twitch muslces - 7 x 800 (around the neighborhood) at race pace:
3:13, 3:14 x 2, 3:15 x 2, 3:18, 3:13
Let me just say, that will not be my race pace. It felt harder than it should have and not sustainable. I am still going to do the race, and call it a tempo run, because I really enjoy this particular series.
Running fast on tired legs is challenging.
However, its still not as challenging as taking my kids to the grand opening of the Disney store. Some outings are undisputably harder with two kids, but I dont think that should disclude us from activities. So, like every other mom, I went to the mall.
The store was crowded, here we are waiting in line:
To help with the crowds, they provided stroller parking. A store worker eventually took our stroller. Here we are still waiting in line, sans stroller:
The kids enjoyed waiting in line; the challenge began when we entered the store. The store was filled with lights and sounds and activity...which freaked Hayden out. I suppose since he is scared of ferris wheels, ceiling fans, water and Brenna's
crib soother
, I should not have been surprised that he was scared of all the intense visuals. He placed his head on the floor and started screaming. I was relying on him to walk, but there was no reasoning with him. So I picked up my 35 pound terrified toddler and chased Brenna around the store.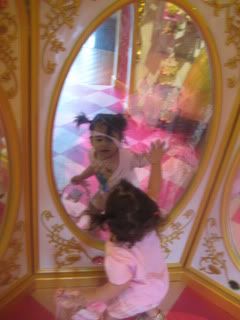 Since we waited in line for so long, I felt obligated to stay but after Brenna discovered that she could take items off the shelves, we left. The kids experienced the mall food court for the first time: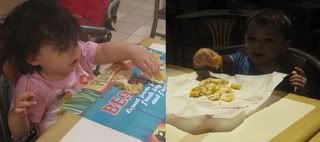 After lunch, Brenna threw a tantrum.
So, we rode some coin-operated rides. Everyone was happy.
Then they ended, which resulted in more tantrums. I decided this was out queue to leave...so we did.
Anyway - of course we did not go through all that without making a purchase! Its a night gown that looks like a princess dress: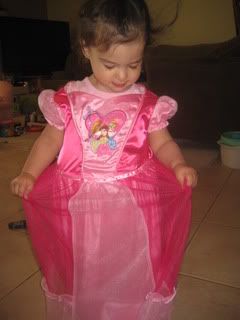 Does she like it?
Of course: