The Summer 5k Summer series is over.
And, unfortunately, it did not end well.
I felt pretty comfortable with my "pain in the butt". I had 2 massages, lots of stretching and I did a short run yesterday, which felt really good.
I got to the race, warmed up and stretched - again, it felt good.
The race started and I immediately felt stiffness in my hamstring. I focused on staying relaxed. Mile 1 was in 6:20. Leg was tight but I felt okay.
Next there was some hills. And my hamstring did not like the hills. Got to the turn around right on pace (avg 6:45). Now the remainder of the course was downhill. The plan was to fly.
I did not fly.
My hamstring flared up and every step hurt. I considered quitting but the athlete in me said,
No, just keep going.
So I turned off my watch and kept going.
I finished - not sure what my time was. Ignorance is bliss.
Usually, when I finish a 5K, I feel exhausted. When I finished this race, I did not feel fatigued at all. I barely feel like I even worked out today! But regardless, I was so happy when I finally passed the finish line.
I popped immediately on a message bed and got a 20 minute massage. My muscle was having spasms at first but by the end of the massage, it felt pretty good.
I came home and iced and now it feels just fine. It actually feels very loose, thanks to the massage. I'm going to cautiously take it day-by-day and keep you guys updated.
BUT,
on a happier note, the Science Museum was free this weekend! It was very crowded and hard to maneuver our limo-stroller: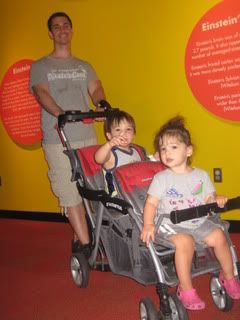 Even with the crowds, the kids managed to get some learning in: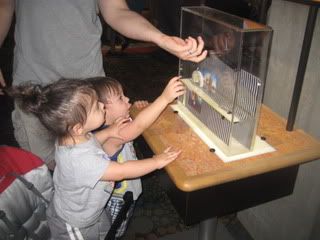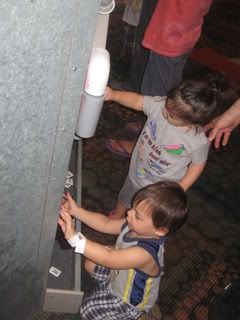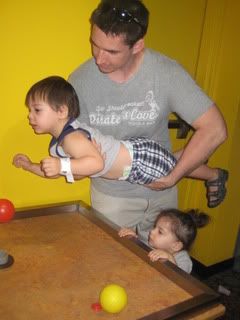 Even David got some learning in:
And I even found ways to be tough ;)