Monday - 7 mile trail run at South Mountain
Tuesday - 7 miles w/ the jogging stroller
Wednesday - 4 miles - very short speedwork session to see if my fast-twitch muscles were working:
400 x 2, 1 min RI @ 7min/mile (1:28, 1:26) + 1 x 800 (2:52 - not sure how I ran so fast, and the crazy thing is that it didn't feel hard!) followed by 1 hour of hot yoga.
Side note: I am undecided about my feelings on yoga. I don't dislike it, and I think the stretching feels good. On the other hand, I get bored after 30 minutes.
Thursday: 6 miles w/ the jogging stroller in the wind
Friday: 2 miles at South Mountain, downhill to the u-shape canal.
6 x .44 miles (odd distance but that is the length of the canal). Alternated between 6 min/mile pace (tail wind) and 6:20 min/mile pace (headwind), 1 min RI. Then ran 3 miles, all uphill, back to the car.
Saturday: Watched the Marathon Olympic Trials! I even let Hayden skip his nap so that he could watch, too:
Sunday: 12.5 mile run at the local Rock and Roll race. First I cheered on my friends who were running the half marathon, and then I cheered on (and ran along side) my friends who ran the full marathon. It was a lot of fun..............but I am glad that I was a spectator, as opposed to a participant.
First, I got to sleep in and spend a lazy morning with my kids:
I didn't have to leave my house until 8:20! By then, the sun was up and it was no longer cold outside. I also didn't have to wait in line to use a stinky porta-jon.
I felt a little badly that I did not take the kids, especially when Brenna got into the stroller,
Watching the marathon is something that we have done every year. In fact, 2 years ago, was our first outing with the jogging stroller!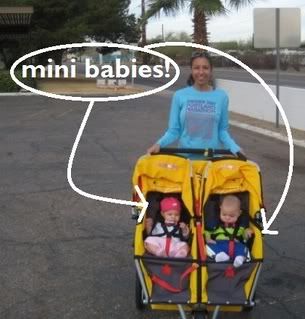 I just knew that they would lose patience after an hour, and I would want to stay longer. I ended up being gone almost 3 hours - they would have been miserable.
Watching the marathon re-affirmed my decision that it's a distance that is simply not for me. Everyone looked like they were in so much pain! Don't get me wrong, I am not pain-adverse; pushing yourself past discomfort is what makes someone a better runner. But I prefer to be in pain for less than 3 hours, and recovered by the time breakfast is over. I think it's almost intuitive to want to do a longer distance after conquering a shorter distance - for example, it almost seems natural to do a marathon after completing a half marathon. But why go longer, why not go faster? I think that will be approach for the next few years - it just seems easier!
But for now, I am concentrating on the 12 mile trail race.
After 2 weeks of training, I am already in the taper.