Now that the kids are nearing two-and-a-half, it pains me to say it but our running days are short-numbered. I cannot believe we have been hitting the pavement together for nearly two years!
I cannot fathom NOT running with them, but perhaps the definition of "running" simply needs to change to adapt to our new situation.
*GASP*....yes, ME - suggesting adaptation! I think we all know that I am a stick in the mud when it comes to change. But one thing motherhood is teaching me is that I must accept change gracefully and "go with the flow."
The babies are registered for their first race! This will be their opportunity to show the world that their little legs can move. The distance is 100-meters and the race is in 2.5 weeks. All kids win an award.
Hayden was very excited to put on his new running shoes!
Brenna tolerated the activity, but was less enthusiastic: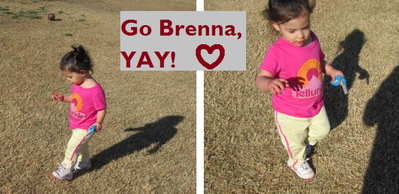 She was more interested in playing in the playground, which is cool - we can call it "cross-training". However, she had some technical difficulties since she refused to wear a sock. For whatever reason, it was acceptable to wear a sock on her right foot, but the worst thing in the world to wear a sock on her left foot.
And thus, she learned the hard way that it is not fun to play when your shoe is constantly filled with sand and you do not have a sock! It is a very important lesson.
After that they ate lunch in the stroller and we discovered that BOB has an injury. Considering he has over 1,000 miles on him, I guess it was bound to happen. He is simply missing a bolt:
So when the sunshade goes down, Hayden cannot see.
And even worse, he cannot kick his sister in the face, like this:
I will try to fix it with duck tape, since that is how I fix things. Until then, the easy solution is not use the sunshade.
Speaking of ducks, we saw a lot of them on our run...really really big ducks!