2012 has started off with a really good week. Hayden is registered for preschool (he starts Monday), Brenna allowed me to dress her a few times and I've started to feel my motivation return.
Although I have turned back on my Garmin, I don't feel quite ready to bust out the speedwork. So, for now, I am training for trail races and 5Ks with the jogging stroller. These races are nice because it takes off the pressure of needing/wanting to be fast.
Monday - Nothing!
Tuesday - 6.5 miles with the jogging stroller in the wind. This was our first run of the year:
They were quite happy about it:
Wednesday - 9 mile trail run at South Mountain. This was a pretty hard run since it was all hills, but a decent pace nonetheless.
Thursday: 7 miles with the jogging stroller. We played around South Mountain.
(and in case you are curious, no, Brenna is not wearing pants).
Friday: 21 mile bike ride @ 19.8mph bricked with 2.5 trail miles. I say "trail" here rather loosely because it was more of simply off-roading through desert terrain. But I was resourceful and ran up this neat hill a few times:
Saturday - 10 miles, which included a 2 mile uphill and about 3 miles on wonderful trails. I also had wonderful company! This originally was only a 8.5 mile run but it bugged me that my "long run" was not the longest run of the week. I guess I finally found myself a pet-peeve.
Sunday - That is tomorrow so I cannot report it yet.
So now that I have started training, I just need to fill out my race calendar. There are a lot of races so it is somewhat overwhelming.
The first race in consideration is the Coldwater Trail Race. I am actually sure that I am going to do this race, I am just undecided about the distance. My options are a 4-miler and an 11-miler. It feels strange to be timid about 11 miles, but I think this is going to be a very hard trail. I know that part of it is through sand, and I know that there are boulders that you need to climb over.
My friends are doing the 11-miler. But my friends are also Ironmen.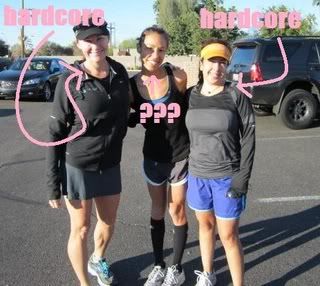 There is an Exterra trail race a few weeks later that I am considering as well.
And then finally, there are a TON of 5Ks in February. I see no reason why I should not do as many as I can with my stroller. This will be our last year running together, I want to make it special.
I am not going to plan anything past February, so we will revisit this conversation in March.