I really enjoyed this event. I am not just saying that because I did well, I am saying it because it was sincerely a fun and unique race - with beer and wine at the end. Even though it was relatively large (1,100 women and 800 men), it was well executed. There was never a line to use the restroom nor confusion. And, for the price of the race, not only did women get a running skirt, everyone got two free drinks, free food and we were treated to live music.
Per my racing tradition, I got to the race site very early. I wanted to park as close as possible (I hate the hassle of gear check) and avoid lines and chaos while picking up my bib. I also managed to score a free chair massage without having to wait.
I find that I can never get to a race "too" early. I need
at least
25 minutes to warm up, 10 minutes to stretch, 10 minutes to socialize, 5 minutes to use the bathroom, 5 minutes for strides, 5 minutes to get into my race zone and at least 5 minutes to secure a reasonable spot on the start line. I rather have too much time than not enough time because none of those things bode well with being rushed.
I stayed true to my word and ran this race without a Garmin. Although I did technically wear one, I just kept it on the setup screen, which provides no information whatsoever.
I wanted a watch for a few reasons:
1) So I could keep an eye on the time while I was warming up
2) So I knew my time at the end
Since I didn't look at my watch during the race, I managed to forget it existed and thus forgot to turn it off at the end, deeming it useless. I think perhaps I will invest in a smaller time piece for races. Because yes - this no Garmin thing is officially my
new thing
.
During my warm up, I noticed two things. First, it was hot (at least to February's standards). Nearly record high temps put the air close to, if not, at 80 degrees. Second, there was that lovely wind (aka, my arch-nemesis) rustling the leaves on the trees. Usually that sound alone puts me in a mental tailspin, but since I was running this race purely for play, I did not care.
It was not until after I changed over to my racing shoes and spent minutes on the start line that I actually felt like running fast. The race adrenaline was irresistible by the time the national anthem was over.
The gun went off and I flew off the start line.
My shoes felt light, my legs felt loose and my lungs felt strong.
I can run this way forever!


But one of the benefits of training too fast is that I know precisely what "too fast" feels like. I quickly pulled in the reigns and had everything under control by the first quarter mile.
Since I did not know my pace, I focused on what felt sustainable. I made sure that I was not panting, and that my heart was not beating profusely. I periodically performed 2 self checks:
- can I hear my breathing?
- can I smile effortlessly?
Keeping those checks in place, I allowed myself to race the race and pass a few people:
What followed me:
By the turn-around, I was still able to talk (okay, perhaps more like mutter) to the few ladies who were ahead of me. I enjoy out-and-back races like this because it allows the participants to be spectators. "
Good Job
!" I told each of them. I enjoyed the same praise from my fellow athletes as I ran opposite the crowd on the way back.
I did start to get tired on the way back but I just stayed true to myself. When spectators encouraged me to catch the woman in front of me, I smiled and shook my head. Perhaps I am not nearly as competitive as I thought, or perhaps a strong finish was simply more important to me.
And my finish was dynamite - unlike so many of my previous races, I had gas left in the tank and a hop left in my step.
And my fury was even more ignited when I saw the clock was under 19:30. Even with the heat and hills, I was going to PR.
It was a 15 second PR: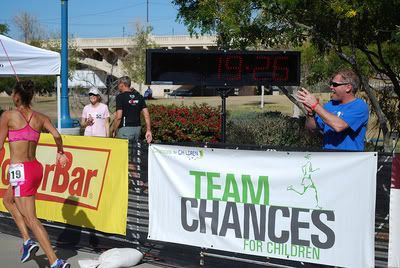 Making me 5th overall and 2nd in my age group (2/230).
But all that aside, the real victory here is that I ran a smart race with a strong finish. I ran within my physical abilities AND my mental ambition. Lately, finding the middle ground between those two has been a struggle - because I have been fighting it instead of letting my body find it.
The end of the race turned into a block party. And I have the coolest friends, they volunteered to pass out the booze. This makes them very important people!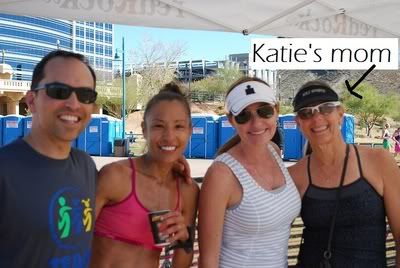 My Dad was also there to greet me at the finish.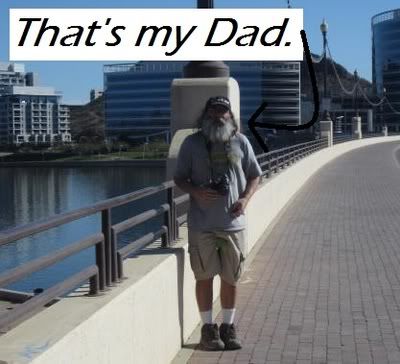 In case you wonder how I get such excellent running photos, it is because of him.
I think this set turned out nicely, with the exception of some man-arms that I am sporting.
This has nothing to do with Dad's photography skills, but instead of the affect of having a 40-pound toddler who often refuses to walk. Like any other two-year old, he enjoys being held. And, like any other mother, I enjoy holding him.
But come on, we would ALL have freak arms if we spent our days lugging around this:
And I mean that in the most loving, endearing way.
I want to say this ends the running season for me because I have two upcoming duathlons which will assimilate into triathlon season.
But I am not going to say that.