I've never been much of a speed demon, which is probably why I spent my pre-baby running career focusing on longer distances. Only recently did I wake up one day and
discovered that I could run a sub-6 pace
. The only time I have ran a sub-6 pace prior to this was perhaps during some random 400s, and the first minute of a 5K.
I've been doing some haphazard speedwork since then (
aka:
What-I-Want-to-Do, When-I-Want-to-Do-It) with hesitant plans to do a 5K on February 11th.
Workout 1:
800 (2:54), 1 Mile x 2 (6:12 / 6:09), 800 (2:55)
Workout 2:
1 min "fast" (5:37 pace avg), 45 sec brisk RI x 5
2 min "almost fast" (5:53 avg), 90 sec brisk R1 x 3
3 min "less fast" (6:05)
2 min "5k Pace" (6:10) x 3
Workout 3:
1K x 3 @ 5K Pace, .15 RI (had to cut this short for hot yoga)
Workout 4:
1 Mile (5:54), 2 min RI
800 (2:58)…..and I am feeling like a stud at this point. I recover .25, turn around to do it again in the opposite direction and
BAM
….headwind! I am not talking about a crazy headwind but I clearly did my first 1.5 miles too fast, and poor little me could not handle a breeze (and yes, I realize that means I had a slight tailwind before). So instead I did 400 x 4, keeping steady at 1:32, which is my goal 5K pace.
I think, if properly trained, I could run that pace (6:10). But because I have focused on seeing new numbers on my Garmin, really all I have done is trained myself to run 1 mile too fast – not 3.1 miles consistently and realistically "fast". On one hand, I am happy about my first sub-6 mile. It's worth a photo: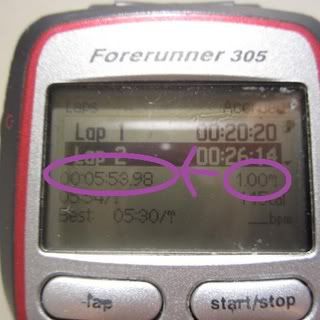 On the other hand, I can predict how that 5K next weekend will pan out. I will start off too fast, run a 6:08….manage to weasle out a 6:15 for Mile 2 and then shuffle in a 6:55 minute mile for Mile 3. That will bring me close to 20 minutes, give or take a few seconds in either direction.
I know…I know…
I should simply avoid this situation by
not
going out too fast. For some reason, this logic always escapes me on race day! On race day, I often forget my limitations…until Mile 2. Then I get a sobering reminder of who I am.
I always decide after every 5K that this distance is too short and too fast for my liking and that I will not do another one…but ah, how quickly I forget!
The babies have also had a quick turnover from their race. After a day of recovering, they are past it and back to running.

We have also added cross-training to our repituare. Brenna has a fondness for the jump rope. She gives it a valiant effort, although it's quite a tricky sport.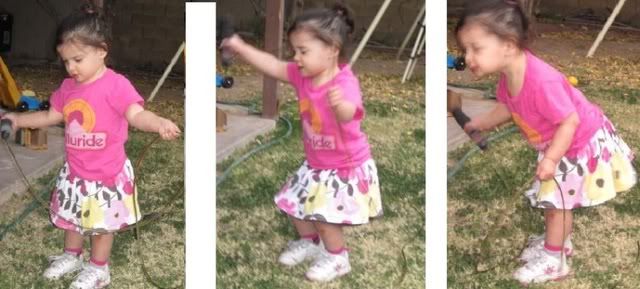 Meanwhile, Hayden is discovering an inner-gymnast.
But even he has the ability to get up, he still lacks the confidence to get down: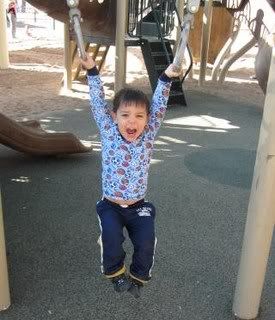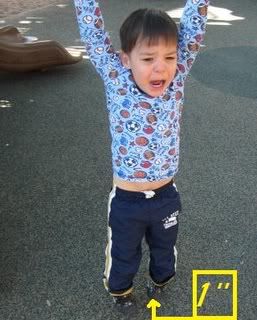 We will work on that.