I am feeling much more comfortable with this upcoming duathlon than my previous duathlon. In fact, I am feeling much more comfortable with this race than any previous multi-sport race since:
There is no (open-water) swim and there is no long bike ride.
It is still a new distance for me though so I want to keep my expectations low. The goal is not to have a superior race but rather a strong race.
Duathlon workout #1:
*
20 min on trainer ending with 1 minute "sprint"/1 minute RI x 10
*
S
traight outside - 800 x 1 at 5k pace (3:09)
-1 mile at "fast" pace (5:51)
-800 x 1 at 5k pace (3:04)
-30 second sprint x 3
*
On bike - 16 mile ride
*
Back to running - .33 x 4 (sub-6 pace)
Thoughts: This workout was hard to me because it was warm and sunny. Mid-80s at the start and upper-80s by the finish. I just felt so sweaty and thirsty (despite drinking water).
I had accepted that this was my fate for the next 7 months but then it got very windy and temperatures dropped 20 degrees in a single day!
Duathlon Workout #2:
*
2 mile warm up, 1.75 mile loop "fast" (5:54 pace)
*
7.5 mile bike loop x 2 (18.5mph avg)
*
1.75 mile loop w/ 1.5 min, 2.5 min, 3 min "fast" (sub 5:50)
Thoughts:
The wind was still lingering for this workout so I didn't check my paces until the end. I also did loops to balance out the head-tail-cross winds. Even though wind can be frustrating, I prefer it to the unquenchable thirst that accompanies heat.
Duathlon Workout #3:
*
15 min on trainer ending w 2.5 minute "sprint"/30 sec RI x 2
*
Straight outside
-
1.6 mile loop at 5k effort (6:07 pace)
*
On bike - 21 mile ride (19.5mph, as good as it gets with street lights)
*
B
ack to running - same 1.6 mile loop at 5k effort (6:07)
Thoughts: I didn't look at my paces while running so it's a coincidence that it took me the exact same time each time to run the loop. I would love 6:07 to be my future 5k pace BUT I MUST NOT RUN THAT PACE IN THE RACE.
The challenge for me is going to be pacing.
This is why I cannot forget my goal:
finish strong
.
My second challenge will be transitions. I am always very slow in transitions. Yesterday, I ran with the kids to our local tri-store to buy no-tie laces. I am hoping not fumbling with laces can save me some seconds.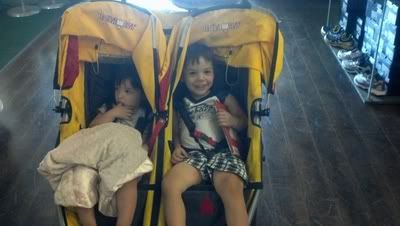 This is not the first time I am going to attempt these.
Now, I just need to not be lazy and put them in my shoes BEFORE the race so that I can practice with them.
On our way to the tri store, we stopped at the park.
A young girl was very interested in Hayden. They quickly became an item.
But it was short-lived.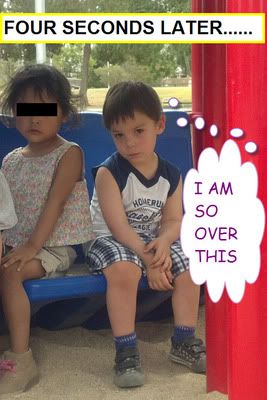 Next week the temperatures will be in the 90s.
This time of year is awkward because even though it is uncomfortably warm in the afternoons, it is still too dark to workout before work. I am glad that I got these three workouts in - the next few weeks will be more about acclimating rather than accelerating.