I am doing a sprint triathlon on Sunday.
Sprint triathlons vary in distance - this one is a 750-meter swim, 12-mile bike ride, 5K run.
I didn't feel the need to train for it because it is so short and my duathlon training is sufficient for the bike and run portions.
This is my first time doing a Sprint triathlon so I don't know what to expect. Although it sounds easy on paper, shorter distances are actually not easier than their longer counterparts. The decreased length means increased speed. It's a different kind of challenge.
I examined the course map and I am disappointed with the run course. Unlike the longer distances, we have the pleasure to run up a steep hill .
This hill always seems to be in my races.
I used the course map to do my one training workout. The
Triathlon Workout
began at the course. I was taken aback when I got out of my car to be nearly blown over by a speeding gush of wind.
The warm included 1 mile of the course, up the hill, 2 miles on trails to the canal and then the rest:
*
1.15 miles on canal "fast" (5:57 pace) -
cross wind
*
Headwind to my house with a 4-minute push (6:10 pace) and 70-second sprint (5:40)
*
14 mile bike ride back to car (
mostly cross wind, but a little head and tail wind action
)
*
1 mile on the course "fast" (5:57) -
tail wind
*
800 in a headwind (3:15)
*
2x up the hill
*
1km in headwind back to car at 6:40
I felt good about the bike and the run.
And then I remembered -
the swim
.
750-meters is not a long swim - until you go to the pool and swim 15 laps.
I did this. Once.
It is safe to say I will not drown.
It is also safe to say that I won't be one of the first people out of the water.
Which is fine but in hindsight, I do wish I prepared.
There really is no excuse. I have access to a nice indoor pool that provides childcare.
And my kids like going to the childcare.
When we went, my kids walked in as if they ownded the daycare.
When I picked them up for lunch, Brenna was happy to see me. Hayden pretended he did not know me.
But he can never ignore the promise of lunch.
I always order them the special. This week it was a hummus wrap.
It had a lot of vegetables so it was not their favorite thing, but they ate it up anyway.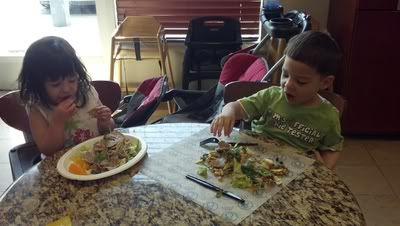 Hayden ate his entire lunch holding a yellow matchbox car. I suspect you will see this in future pictures because it is not just
a
yellow car, it is
THE
yellow car. It must be in his hand at all times, including when he sleeps.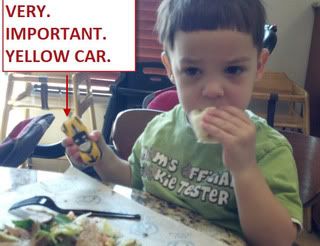 They also ate maccaroni puffs to make the meal "toddler friendly." Hayden, who tends to wear half of every meal spattered on his shirt, decided to take the
George Constanza approach to eating puffs
by using a fork.

Brenna, refusing to be out-sophisticated, followed his lead.
So we left the gym premises well-fed, slightly more refined and with the satisfaction of knowing that I went swimming because one time is better than zero times.