There is another 5k next Sunday - 10 days away. That gives us two more speed workouts if we choose to do this.
I talked to the race director, who was very welcoming. The race is almost flat, except with a slight upgrade at the end. The path is wide and paved.
My only reservation is that my triathlon (which cost $140 to register, btw) is only a month away. I have not long-biked in two weeks (and I am still licking my wounds from Sunday) nor have I done a single brick. I will need to sacrifice focus, plus one weekend of training, to do this race.
On the other hand, I really really want to break 21 minutes with the jogging stroller. The weather is only getting warmer, and the kids are only getting heavier. I almost feel that this is a "now or never" situation.
So that begs the question,
Can I run a sub-21 minute 5k next weekend
?
To do this, I need a 6:45 race pace. We played around with this pace today:
5 minutes @ 6:45 pace (uphill)
2.5 minutes @ 6:45 (still uphill)
3 minutes @ 6:11 pace (downhill)
2 minutes @ 6:41 pace (back uphill)
1 minute @ 6:07 pace (downhill)
4 minutes @ 6:33 pace (flat)
2.5 minutes @ 6:31 pace (slight uphill)
2 minutes @ 6:43 (slight headwind)
5 minutes @ 6:45 (slight headwind)
recoveries were between 1-3 minutes, depending on whether we needed to cross a road or refill a snack bowl.
In case anyone is curious, the way I did this workout was I had my garmin show me three things:
Average Lap Pace / Lap time / Lap distance
I attach the garmin to the handle bars of the stroller so that it is visible at all times.
If you are trying to run a certain pace, I recommend this view. I knew I didnt want to run slower than 6:45 so no interval ended until my average lap-pace was at least 6:45. For example, it took me 5 minutes for interval 1 to get my average lap-pace to be 6:45 so that is why that interval is 5 minutes. It's not nearly as random as it looks.
When I told the kids this morning that it was speedwork day, I got these looks: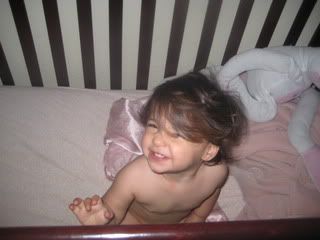 The kids really do like to run. Maybe I should just do it because we would have fun.
My Dad is over watching the kids while I do this blog update. When I told him I was updating my blog, he got excited and asked if there would be pictures. I guess my running blabber is not interesting unless you are interested in running. I respect that, so here are more pictures:
Hayden wearing Daddy's shoes:
Brenna wearing her new gymnastic leotard:
I just couldnt bring myself to cover up those thighs so that leotard was her complete outfit all day. She didnt mind, she loved it: