So yes, they fixed the PH balance of the lake, meaning that the swim portion of my upcoming triathlon is a definite thing.
In preparation, I did a splash and dash: 1000 meter swim, followed by a 5k.
I busted out my wetsuit that had not been worn in many, many years. Mind you, many many years ago I was a bit more narrow. And, even then, the wetsuit was questionably too small. Last night I managed to put it on with just a little sweat and tears, however it was hard to breathe.
One could have easily argued that I did not need a wetsuit (the morning temperature was 65) but for those of you who know me, you know that 65 degree weather is coat weather for me. So my options were:
- wear a wetsuit that was too small (and potentially get stuck)
OR
- suck it up and freeze (and potentially get hyperthermia)
Luckily for me, I was able to borrow a wetsuit at the event from a very nice man named Barry. It was too long but at least I could breathe.
The swim course was two 500-meter loops. My friend Shelly was just doing the 500.
I soooo desperately wanted to do the 500 as well. But since my triathlon has a 1500 meter swim, I needed a longer practice.
The first loop was horrible.
I was kicked in the face.
I swam over people.
I swam under people.
Eventually, we all spread out and I was able to just try to get finished. But, was I swimming in the right direction? Every time I put my head up, the sun was in eyes and I was unable to see the buoy.
After the first lap, I had a little confidence which made the second lap slightly easier.
Nonetheless, I was thrilled when I was done!
I jogged over to the transition and peeled off my wetsuit. I dried off my feet. I put on my shoes.
And then I ran.
I was doing the 5k as just part of my long run (Shelly and I had another 6-8 miles planned) so I did not run all out. But even holding back, I had the fastest woman's run time.
Shelly told me that I looked so fast yet controlled when I ran, and that I was fun to watch. I think that is perhaps one of the best compliments anyone has ever given me!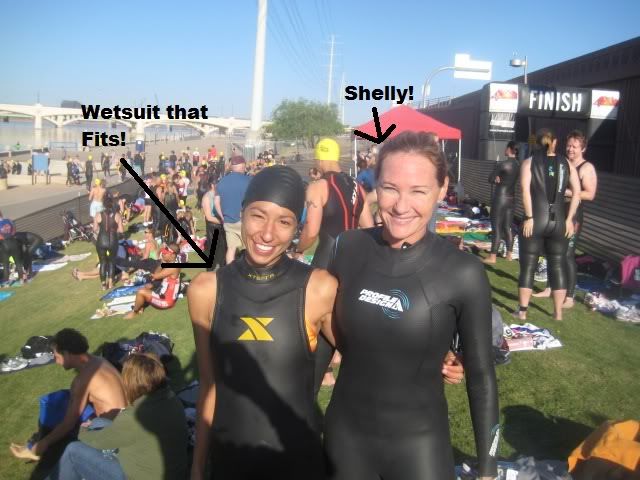 My swim time: 24 minutes (UGH)
Transition + 5k time (22 minutes)
Placed 2nd in age group but there was no bling at this race. I did win a
RoadID
though.
Speaking of bling, like mother, like daughter: