End of week summary:
Monday: 7.5 w/ 1 mile x 3 (6:19, 6:25, 6:24). The miles were a little slow (aiming for 6:20) but I just wasnt feeling it. 82 degrees and humid did not help.
Tuesday: 6 miles w/ the jogging stroller in the wind.
Wedneday: 8.3 miles w/ 3.5 miles @ tempo effort (6:49). It was 15 degrees cooler than Monday! Although twice as humid, since it rained.
Thursday: 9.25 miles...first 30 minutes in intense wind. I was just so happy I was not on my bike, I think I would have been blown over! After that, the wind stopped and it started to pour rain. In Arizona, it rains about 3 times a year. I cannot even remember the last time I ran in rain. It was fabulous! I had to force myself to stop.
Friday: 5.5 miles (4.5 miles on the trails at South Mountain, followed by 1 mile worth of strides) and 1000 meter swim.
Saturday: 2.6 mile run / 14 mile ride @ 20mph / 1.5 mile run
Sunday: 14.7 mile run. First 10 miles @ 8 pace, last 4 miles @ 7:01 pace, plus a short cool down. But I confess, I stopped and stretched at mile 3 of the last 4, even though my running partner told me not too. In my defense, we had to stop anyway to turn around...might as well stretch for a few seconds, right??
Ahhh, stretching felt soo good!
Total miles: 55.3
Overall, I feel really good - probably in part of the cooler weather. This morning I actually wore a SHIRT.
Good bye, Abs.
Hello extra laundry.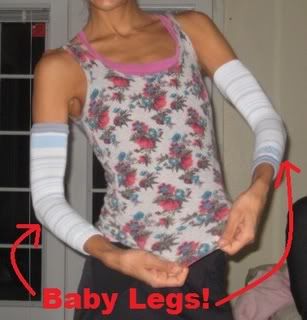 Despite a hard week full of tantrums and big boy beds (and toddler bowel issues)...it was a nice weekend.
We attempted a garage sale to get rid of baby toys. Although we did make a few sales, the only person who was really interested in the toys was Brenna.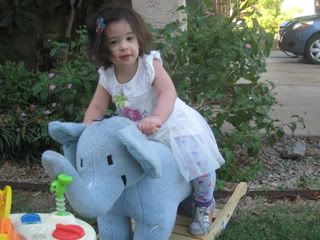 We also took the kids to Oktoberfest.
I wore the Rock and Republic jeans that I bought in college, however my experience was very different from when I went to Oktoberfest while in college. See, college kids hang out in the Beer Garden.
Parents of young toddlers hang out in the "Kinder Garden" where toddlers pick foam apples off of fake trees. I wish I was kidding.