This was my peak week of training.
I still have two hard workouts left but then I start my taper.
I hit all the paces I wanted to hit, and ran all the miles I wanted to run.
Even at 61 miles, my legs feel great - strong, loose and limber.
The only thing is a stupid headcold, which is making it very hard to breathe. Luckily for me, I am not to cool to do a snot-rocket or two while running.
End of Week Summary:
Monday: 7.4 mile trail run (Desert Classic @ South Mountain)
Tuesday: 10 miles w/ 5.3 @ tempo effort (6:51). It was dark during most of my run and I like this because I dont look at my watch.
Wednesday: 7.5 mile trail run (National trail @ South Mountain)
Thursday: 10 miles w 1 mile x 3 (6:17, 6:15, 6:09). Goal was 6:20/6:15/6:10...I was unsure if I could hit that 6:10 but it wasnt that hard.
Friday: 4.6 mile trail run (obscure trail at South Mountain)
Saturday: 16.4 mile run. Longest run since giving birth, and the longest run I will do for training. And of course, I had to do it like a rockstar by going around Mummy Mountain. This is a famous route for all the local runners and cyclists. I have cycled it many times, this was my first time running it. It is a windy road, filled with hills. Here is one of the hills (not my photo, I just image googled it):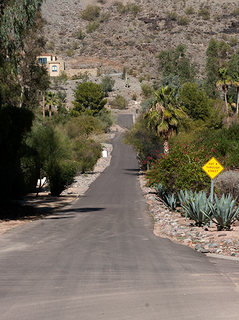 But its pretty, right? Actually its gorgeous.
Totally worth the work.
The first 10 miles were @ 8:20 pace (included the largest hills). Then I broke loose and did 5 miles @ 6:55. Ended with a mile of strides and a cool down.
Sunday: 5.2 miles with the jogging stroller while watching my amazing, hardcore friends do the Soma Half Ironman.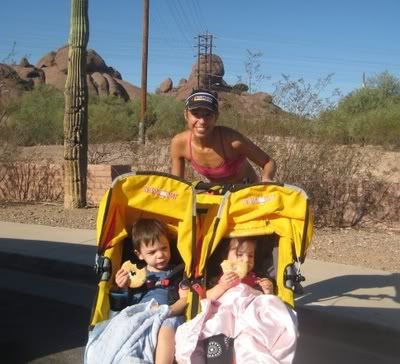 It's always so inspiring when I cheer at these races. Anyone who is capable of riding 56 miles and then running a half marathon is a true athlete. Watching them *almost* makes me want to do it next year!
We just looped around a bunch of times, which ended up being like hill repeats because the course went along this rather annoying hill. It's not so bad to push the stroller up it once, but after a few times, yes, it becomes quite annoying! I am sure the racers feel the same way (since they had to ride it multiple times as well).
I would have loved to stay out longer, but at 10:30am it was already 90-degrees. Brenna insisted on wearing black leggings and just like I suspected, she got hot.
Despite the hills and heat, my pace was pretty good - it makes me want to run another 5K with the babies!
However, I am also in the process of transitioning to trail running. It has been rather hot -
Perhaps this looks familiar....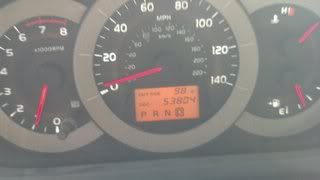 (yes that says 98-degrees in October!)
But that is one thing I love about trail running, you have to embrace the elements.
So I am torn about what to do after this half marathon.
Focus on trail running/racing?
Speedwork with the stroller for a new stroller 5K PR?
Focus on swimming for next tri season?
So many options,
and not enough time!