End of Week summary,
and I realize this is a day early. I am not running tomorrow because my husband and I have a wild night out (and a baby sitter and a hotel room). Plus, this makes my 4th week of running over 55 miles, and without a rest day.
I am not sure why my coach did not give me any rest days, but I am looking forward to taking one!
Monday: 8 mile trail run
Tuesday: 10.5 mile run with 800x7 (3:07, 3:03, 3:08, 3:15, 3:03, 3:03, 3:15). On that first 3:15 I just lost my focus. The last 3:15, I came around the corner to find a piece of construction equipment hauling down the bike lane. Quite frankly, if you are operating something that is faster that a cyclist on crack, you do not belong on the bike lane. I leaped out of the way to save myself, but it ruined my interval.
Wedneday: 8 mile trail run. I messed up here. I was having so much fun and ran way too many hills. It didnt even dawn on me until mile 6 that this was supposed to be a recovery run.
Thursday: 12 miles w/ 8 miles at "race pace-ish". I say "pace-ish" since I am still not decided on what I want my race pace to be.
mile 1: 6:55; mile 2: 6:48; miles 3 and 4: 6:44; mile 5: 6:37; mile 6: 7:03 (uphill); mile 7: 6:48; mile 8: 6:48.
Times were OK but my legs felt worn out from Tuesday/Wedneday. RIs were mostly 1 minute...no RI between miles 3 and 4, long RIs after mile 4 and 6.
Friday: 5.5 mile trail run
Saturday: 12 mile run. This is when I realized that I am beat.
The next week for me is about rest and recovery. I have an ART appointment and a massage. I just bought a bunch of epson salt. I have new compression socks arriving any day.
Ah, taper.
I might do a few easy runs with the stroller. The kids really miss it.
On Tuesday, Hayden woke up and went right to the jogging stroller. I had just finished my run so this was not an option.
I could not lure him away, so I gave him a banana and took a shower.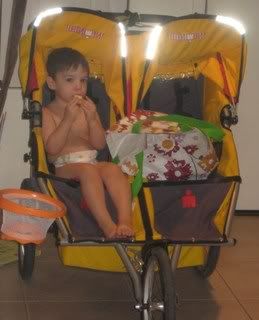 When I came out, I still could not lure him away so that is where he ate breakfast.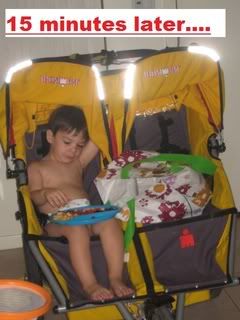 Although it did melt my heart a little bit, Brenna didnt mind having the breakfast table all to herself: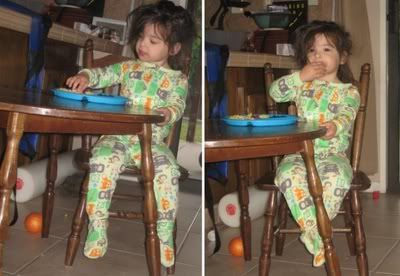 Happy Halloween everyone,
see you after the festivities!