Another day of training with the babies!
Today we did 7 miles (56 minutes) which included 2 tempo intervals (7 min, 30 seconds each...7:21 pace and 7:19 pace ). This was 10 seconds faster per mile than
last week
, which pleased us. We are getting very excited for race day!
Today was also the warmest day of the year - high of the 88 but according to my car thermometer, we hit 90. 90 felt hot - it was a grim realization that soon this is the weather I will be running/biking in...but alas, that is life when you live in Arizona. We had a wonderful fall, and a beautiful winter. I cannot complain.
Since it was so warm, I dressed the babies accordingly...in sandals! I bought them each new sandals during the winter. Well, I bought Hayden new sandals - I bought Brenna 3 new sandals (white, gold/pink, purple)...girl shoes are just so much more fun!
Here they are last summer - this is the first time they ever wore sandals: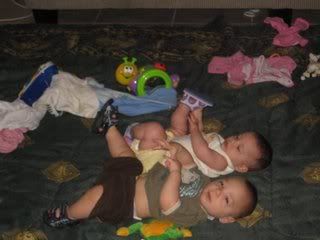 Here is Hayden today...checking out his new shoes:
He likes them?
Brenna wants to wear her sandals: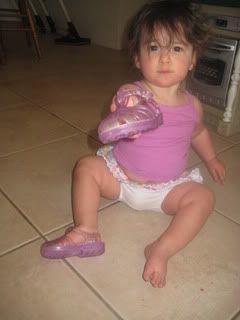 She likes them (of course)