Every Thursday night I take the night off from cooking and we order Greek food. But, my favorite thing is that we open a bottle of Sweet Tea Wine. This stuff is sooooo good:
It's unusual tasting...but in a delightful way.
Training: I woke up early and braved the 29-degree windy weather for speedwork. My Garmin ended up coming back to life...so, I got to see my paces. However, my paces were sub-par. I warmed up for 10 minutes on my bike/trainer, but the second I stepped outside, I became stiff and fridged.
The nice thing about cold weather though is that I cool down super fast, so this made recoveries very short:
4 min "fast"/1 min recovery
3 min "fast"/40 second recovery
2 min "fast"/30 second recovery
1:20 "fast"/30 second recovery
40 sec "fast"/20 second recovery
1 min "fast"/30 second recovery
2 min "fast"/46 second recovery
3 min "fast"/1 min recovery
4 min "fast"/1 min recovery
2 min "fast"/30 second recovery
1 min "fast"/20 second recovery
45 sec "fast"
Total of 4.6 miles, avg 7:36 pace. "Fast" paces (ugh, I hate even calling them fast)avged in the 6:50s. I can blame the cold, or the wind, or the tough trail run yesterday...but maybe this is just where I am at right now. I need to remember this is only my second week of training.
I also went swimming today (30 minutes). There was a point in my life where I counted laps but I cant make it past 5 anymore before I lose count.
Twins: They went to daycare while I went swimming. Hayden can now recognize the daycare from the parkinglot and starts jumping up and down with excitement. Which would be cute if I wasn't wearing him in the backpack!
When I picked them up, Brenna ran to the door to greet me: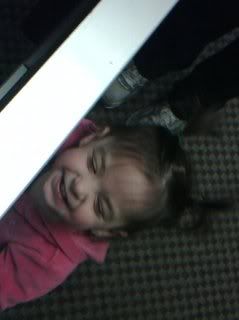 I had to look around for Hayden. I found him: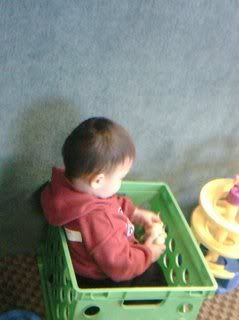 Then I let them walk to the cafe like big kids. At first, they were confused as to why they were not in the stroller or backpack, but once they realized they were being allowed to walk, they were very excited. Brenna toddled while Hayden ran.
They went straight into the cafe. It's a good thing I planned on eating there or they would have gotten upset! Brenna dashed straight for the high chair and threw a tantrum when I had to pay for the food. Luckily, I pre-ordered so it was ready as soon as we paid.
Today they had a garden egg wrap, which was egg, cheese and roasted red pepper. It came with a small fruit cup. We also had a wilted-spinach bean salad.