Training: Easy morning session on the trainer, easy afternoon trail run (6.1 miles). It was such a beautiful day today! It was windy AGAIN but the news said that it should not be windy for the rest of the week. I just hope its not windy on race day...oy, biking hills the wind? Torture.
Twins: Today they had their 18-month doctor appointment. They were very well behaved (as always!) They liked sitting in the little chairs in the waiting room.
Hayden = 30 pounds, 34 inches tall....he was in the 90% for weight and 97% for height
Brenna = 25 pounds, 31.5 inches tall...she was in the 70% for weight and 50% for height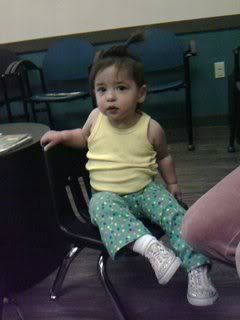 They have had a 5-pound difference for awhile and Hayden has been at the top, if not off, the charts for awhile, too. However, Brenna has always been a peanut in the 10-25% She is clearly not a peanut anymore!
They got weighed on the big kid scale instead of the infant scale.
I think they enjoyed the doctor. Hayden roamed the office in his diaper for a little bit...he is not modest at all. Which is why I doubt he will mind that I post some pictures from his bath tonight.