Monday's Training: Tempo intervals, felt good
Interval 1 - 18min running @7:10 pace
Interval 2 - 20min on trainer, 90rpm
Interval 3 - 16 min running @ 7:15 pace
Also did 12 miles worth of hills at Mummy Mountain. 1/2 of that was downhill - I tried really hard not to ride the break but its so scary! Some stuff, like riding downhill and taking fast corners, you just cant learn inside.
Tuesday's Training:
Maintenance Weight Training - 3x10 bench (65#), 3x10 one armed cable row (50#), 3x10 shoulder press (EZ curl bar), 3x10 lat pulldown (50#), 2x15 upright row on shrug machine (#5 each side), 2x12 hamstring curl (60#), 1x20 squat machine (50#), 1x20 peck machine (45#), 1x20 delt machine (35#)
Spin class - hill day! Obviously after Sunday's long ride w/ long hill and yesterday's hill repeats, this is not what I needed nor wanted. But I was a good sport and listened to the instructor.
and many, many hours later, 6.1 mile run with the babies. It was windy again! I really dont like the wind.
It's so frustrating when you just want to go out and do a relaxing jog with your kids and it turns into a full-fledge workout. It's also frustrating when you run a 9:30min/mile even though you are working your ass off. There were some moments it barely felt like we were moving. However, the kids had fun that was most important.
During the run the kids get a snack cup of cheerios. Only half of these cheerios make it in their mouth though. After the run, they like to eat all the cheerios that they left behind: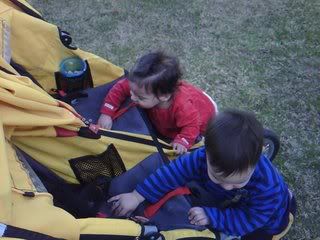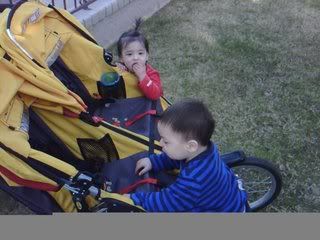 Twins:
Yesterday my brother (Uncle Tyler) came over. This is special because he does not come over very often; this was his first time seeing them since Thanksgiving! In the past, the kids have beens shy, but this time they really took to him.

Especially Hayden, he made my brother read him the B Book at least 5 times. My brother was a great sport.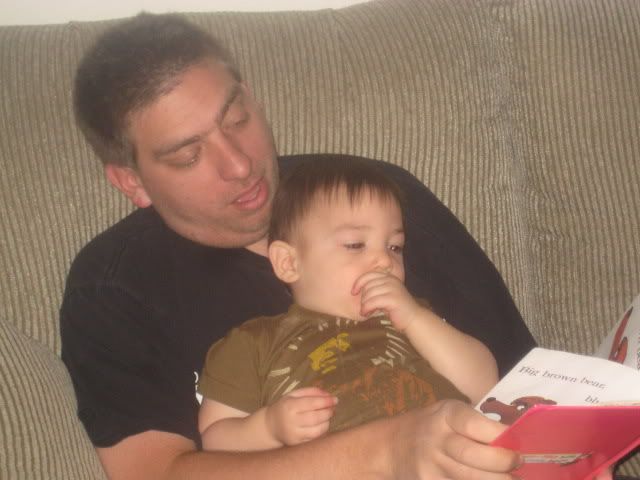 Tomorrow is their 18-month doctor appointment. I am excited to go over the fact that they are not talking. So far, they have said a few words in context ("up", "ball", "cat" etc) but they rarely repeat them. They do communicate with each other using their own special language. Today Brenna made a few interesting noises and they both cracked up laughing. I assume she said something about me.