Training: Spin class (1 hr), 4.6 mile run while pushing the jogging stroller. 9:30 pace - ouch!! In my defense, it was really really windy. And this headwind definitely existed! The trees were blowing like crazy and sometimes there would be a massive gust of wind that would force into a standstill. The BOB Ironman may be all sorts of awesome, however it is not aero-dynamic.
This was my first time running with the jogging stroller in around 2 months. I have to say, I did enjoy roller blading but I put the blades back in the storage closet. I will use them occassionally because they are a lot of fun, but roller blading is needless exercise that does not help me with my current goals.
Twins: I didnt realize how much I missed running with them until today. They are both still recovering from their headcolds and running was the perfect afternoon activity. They cuddled with their blankets the entire time.
We have beeen running together for their entire life. They have no problem sitting in the stroller for an hour, or even two.
Here is Hayden before he was even old enough to sit up! We didnt run (just fast walked).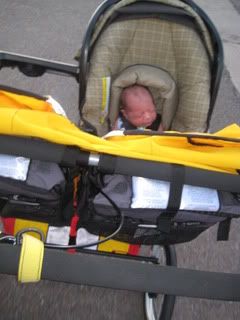 Here is Brenna a few months later. Still not quite old enough to run...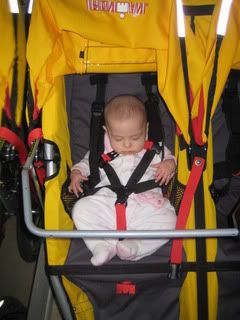 They were finally old enough for running to watch the local rock and roll marathon. This was Jan 17th, 2010. They were almost 6 months old. We ran along the course to cheer on the elite:
By August, we were racing:
This year, we cheered on the marathon on our roller blades. We were out there for three hours. It was their longest time in the stroller. (They dont look especially happy in this picture because their snack cups are empty...I attached little plastic containers on each side to hold cheerios. They love eating their cheerios in the stroller)
And finally, here we are today!