I have gotten a little bit behind on my posting!
Training:
Friday - 23 mile bike ride (moderate hills, slight wind) @ 18mph, briked with 1 mile
Saturday - 10.25 mile run, partly on trails @ 8:58 pace. It was a bit slower than I prefer but trails often do that. Also, it was my longest run since October!
One thing I love about running is the clothing, I wish I could wear running skirts and pink socks every where:

Sunday - 37 mile bike ride (w/ gradual upgrade) at around 17.5 mph, with friends. We left at 7am and it was only 38 degrees. I had on two pairs of socks, and two pairs of gloves, but my fingers and toes froze anyway.
Summery of Week - second week of training:
Running - 30 miles (tempo, speed, trail/hill, jogging stroller and long run - talk about diversified!)
Biking - 60 miles outside + 2 sessions on trainer + 1 spin class
Weights - 1
Swim - 1
I felt great this week. Next week is my last week full week of training! Three weeks wasnt very long, hopefully I see some increased speed next week. Then I will taper.
Twins: We had a nice, calm weekend. They took long naps (4 hours on Saturday!) and there were no major meltdowns.
Today I started to teach them how to clean up their clothing after they decide to empty all their drawers. I think it may take them a long time to learn this lesson.
On Saturday night, Hayden ran out of pajamas. Even though he wears an overnight diaper, he overflows so he needs a clean pair of pajamas every night. So, he had to wear a pair of Brenna's...I think he looks good in purple!
He also spent some time without pajamas on. Or a diaper.
He rode the pony naked:
and then he rode the motorcyle naked:
and then he played the keyboard naked: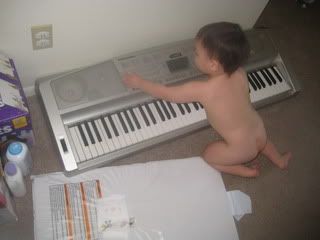 We also played outside (dont worry, he had clothing on!) The babies like rocks and sticks: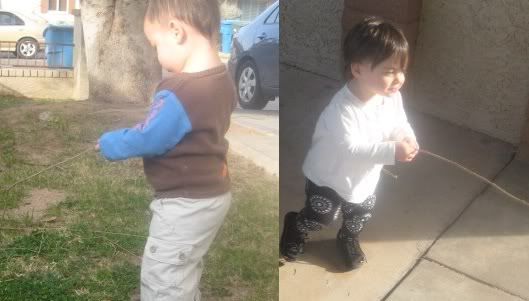 AND, we went to the grocery store for a few items: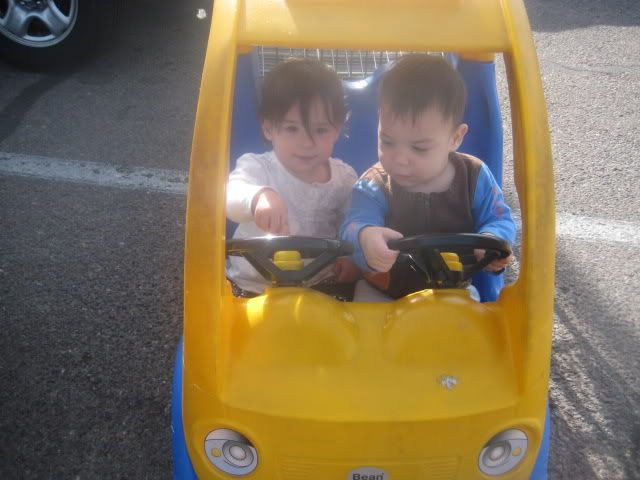 AND, Grandpa came over for a little bit:
I told you it was a "picture-filled" post!
I am excited to start a new week.